Syncing Marq Files with Google Drive
Google Drive Preferences allow you to modify the way you sync and secure your files to your Drive account and local backup.
To change your preferences:
Navigate to your Account settings by clicking on your account name in the top right corner. Select Account settings.
Click on the Google Drive Preferences tab.
Synchronization: You can choose to have the diagrams you create in Marq automatically synced to Google Drive. If not, only projects that you sync manually will be connected to your Drive account.
Automatic Backup: Marq allows you to have all of your Marq projects backed up to your Google Drive account on a weekly basis. Each backup will be a single file in your Drive account and can be restored to your Marq account.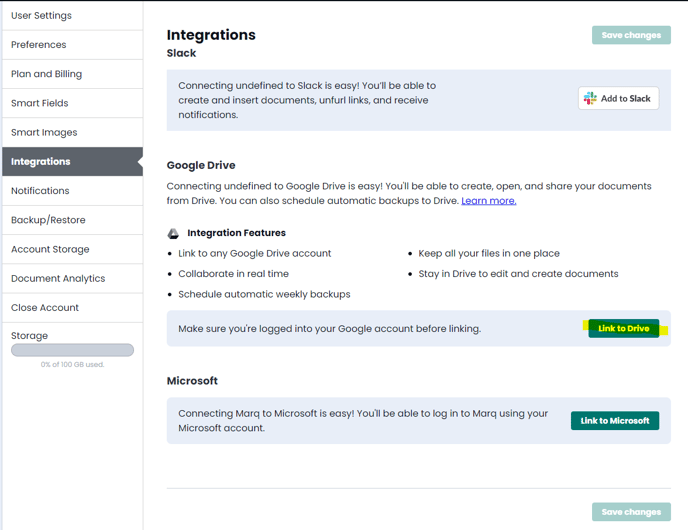 Permissions
Marq's integration with Google Drive requires a few permissions to give you a seamless diagramming experience. Please view these brief explanations of each required permission.
View basic information about your account: Allows Marq to auto-provision an account and bring you immediately into the editor rather than to a registration or sign-in page.
View your email address: Enables Google Single Sign-On.
View and manage Google Drive files that you have opened or created with Marq: Ensures that your most recent Marq file is synced to your Drive account.
Perform these operations when I'm not using the application: Required for automated backup of files on a weekly basis as selected in your Marq Google Drive preferences.
Backup Files via Google Drive
Connecting Marq to Google Drive allows you to automatically backup your Marq projects in Drive. Marq has a separate backup system, but you can also set a weekly backup to Google Drive.
To enable backup:
Navigate to your Account settings by clicking on your account name in the top right corner. Select "Account settings."
From the Google Drive tab, select "Backup weekly."
Press "Save."
If you automatically backup your projects, you will receive an LAF backup file in your Google Drive account every week. You can then restore your projects from the Backup/Restore page of your Marq account.
Important: Your Google Drive email and Marq email must be the same.
In order to connect your Marq account with Drive, both accounts need to be connected to the same email address.
To connect your account:
Change your Marq email address in your Account settings. Click "Save."
Log out of all Google accounts then log into your Google account with the same email now on your Marq account.
From your Drive homepage, select New > More > Connect more apps.
Search for Marq.