Image resolution is an important factor in having a high-quality print. DPI refers to the density of the dots that make up a printed image.
Low-resolution images have around 72 DPI.
Hi-resolution images are at least 300 DPI. This resolution makes for good print quality and is important if you want to represent your brand or other important printed materials with clean and sharp images.
---
Check image resolution on a PC
To check a photo's resolution on a Windows PC, select the file you want to use. Right-click on the image and then select "Properties."
A window will appear with the image's details. Go to the "Details" tab to see the image's dimensions and resolution.
---
Check image resolution on a Mac
Checking a photo's resolution on a Mac is similar to a PC. Select the image you want to use and "Right-click" on it. Click on "Get Info". You can also use the inspector in the 'preview' app.
The image information window will open. You can find the image dimension and resolution under the "More Info" tab.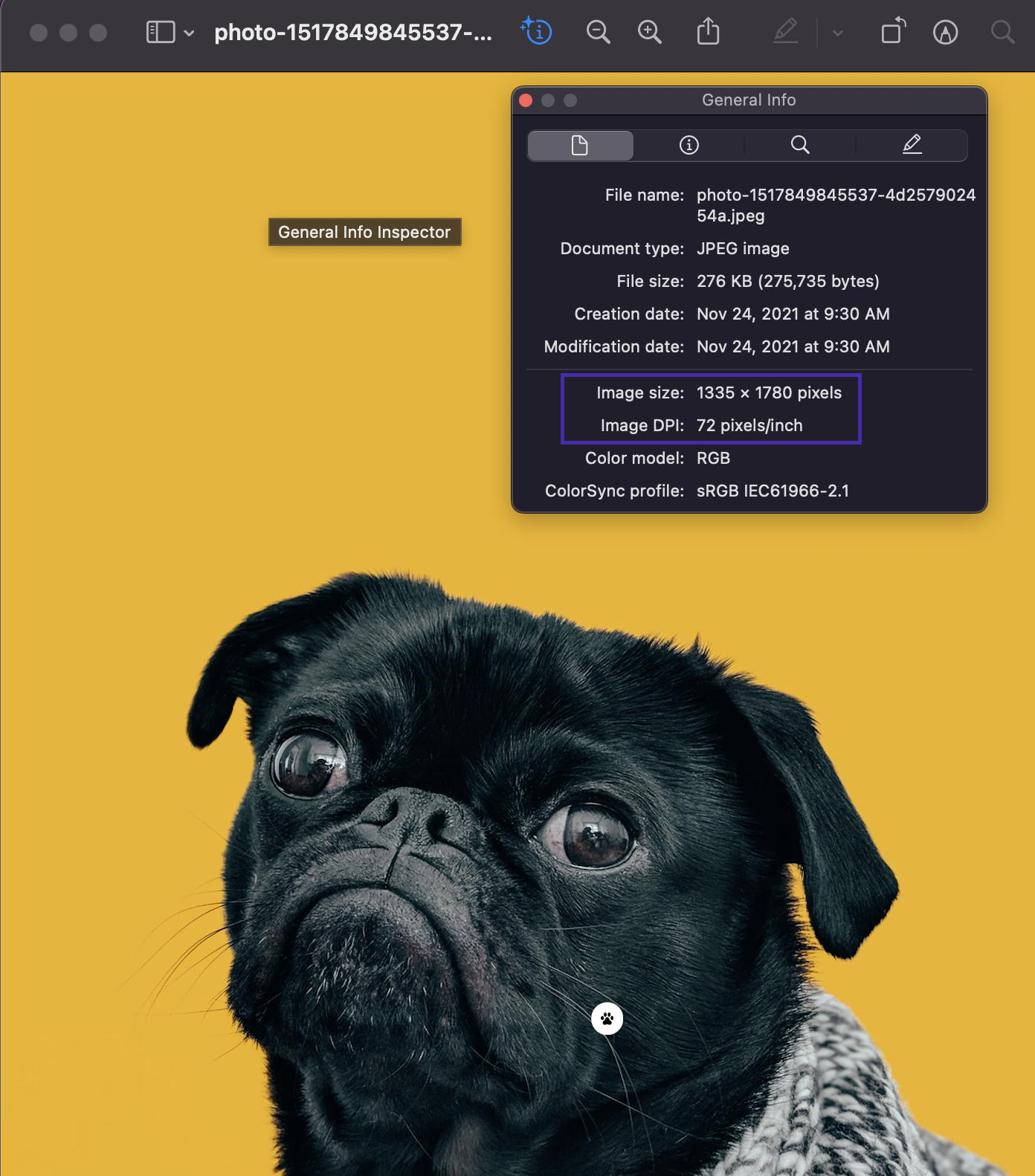 ---
images can be expanded to be larger in size, the important thing to note is that the more you increase the size of your image, the less DPI the image contains. If you have a low-resolution image, you must reduce the size of your image so that the DPI can increase. (more info on doing this below)
To increase the DPI of your image:
Take the height of the image, multiply by the current number of dots per inch, then divide by the number of dots per inch that you need the image size to be. Example: Height: 5inches. Current DPI: 72. Desired DPI: 300. = 5 x 72 / 300 = 1.2. This means that you would need to resize your 5″ image to be 1.2″ when printing in order to make it be 300 DPI and not pixelated. If you would like an image size that is larger, you will need to find a new photo with a larger resolution.
Recommended dimensions for adjusting the print-size of your images to match 300 DPI:
| | | |
| --- | --- | --- |
| PRINTED SIZE | MIN. IMAGE DIMENSIONS | IMAGE RESOLUTION |
| 2" x 1.60" | 640 x 480 pixels | 300 dpi |
| 2" x 2" | 600 x 600 pixels | 300 dpi |
| 2.67" x 2" | 800 x 600 pixels | 300 dpi |
| 2" x 3" | 400 x 600 pixels | 300 dpi |
| 3.41" x 2.56" | 1024 x 768 pixels | 300 dpi |
| 4.27" x 3.20 | 1280 x 960 pixels | 300 dpi |
| 4" x 4" | 1200 x 1200 pixels | 300 dpi |
| 4" x 6" | 800 x 600 pixels | 300 dpi |
| 5.33" x 4.00" | 1600 x 1200 pixels | 300 dpi |
| 5" x 7" | 1000 x 1400 pixels | 300 dpi |
| 8" x 5.33" | 2400 x 1600 pixels | 300 dpi |
| 8" x 10" | 1600 x 2000 pixels | 300 dpi |
| 8.5" x 11" | 2550 x 3300 pixels | 300 dpi |