See what's new in Marq
November 2022
Gifs and MP4 Capabilities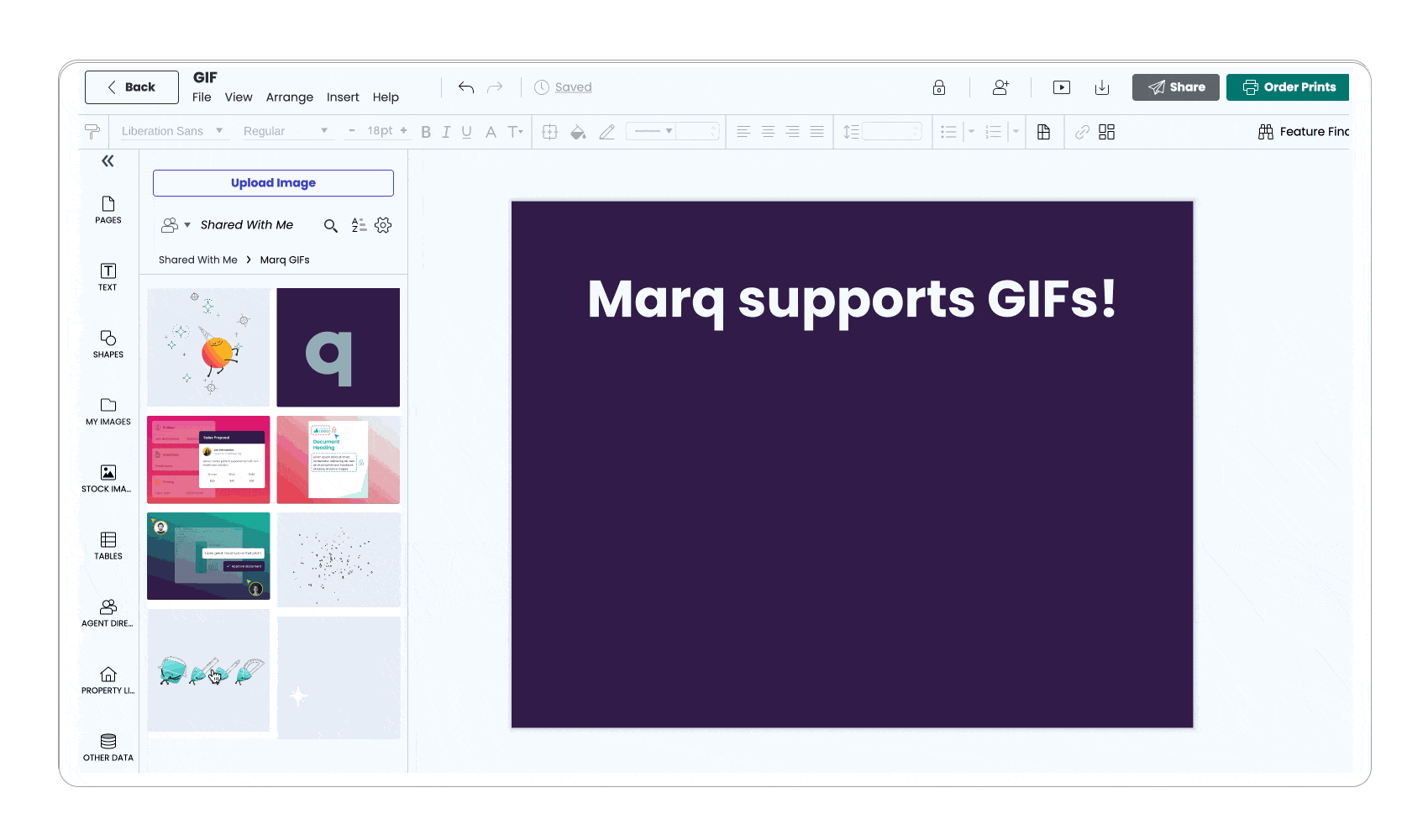 April 2021
04/14/2021 New shapes
We have added 6 new shapes to the shape library.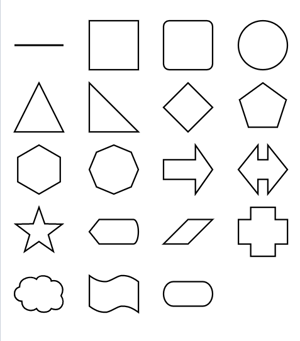 March 2021
03/24/2021 Document specific approval
When converting or editing a brand template, you can exempt documents created from the template from the approval process. Note, It is also possible to have the approval process turned off for the account and have individual templates require document approvals.
Learn more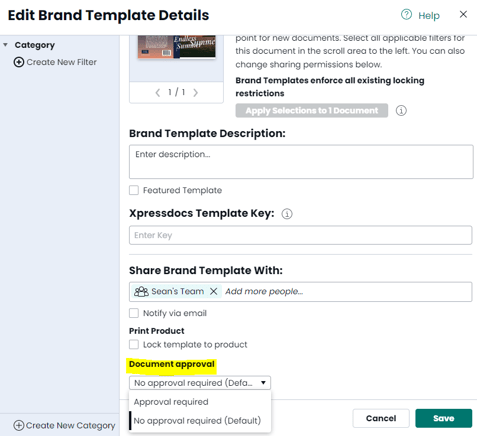 03/24/2021 Bypass Approval for users
If you have a specific user who does not need the approval process, you can grant them a special permission to bypass the approval process.
Learn more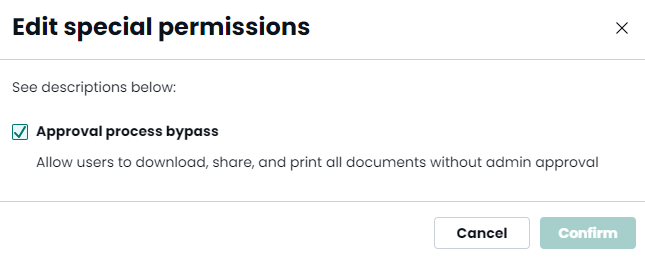 03/18/2021 Page flipping
Enable a page flip animation for your published documents.
Learn more
03/07/2021 Designated image smart fields
Auto-populate images in designated placeholders from your datasource.
Learn more
03/02/2021 Brightcove video integration
Embed your Brightcove videos in your Lucidpress documents.
Learn more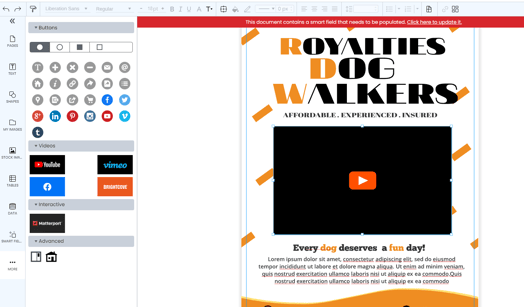 February 2021
02/18/2021 CSV Upload
Uploading a CSV to link your data smart fields is now possible. Learn more how to utilize this feature
here
.
02/16/2021 Dynamic Resize
Quickly resize your documents without needing to adjust content.
Learn more.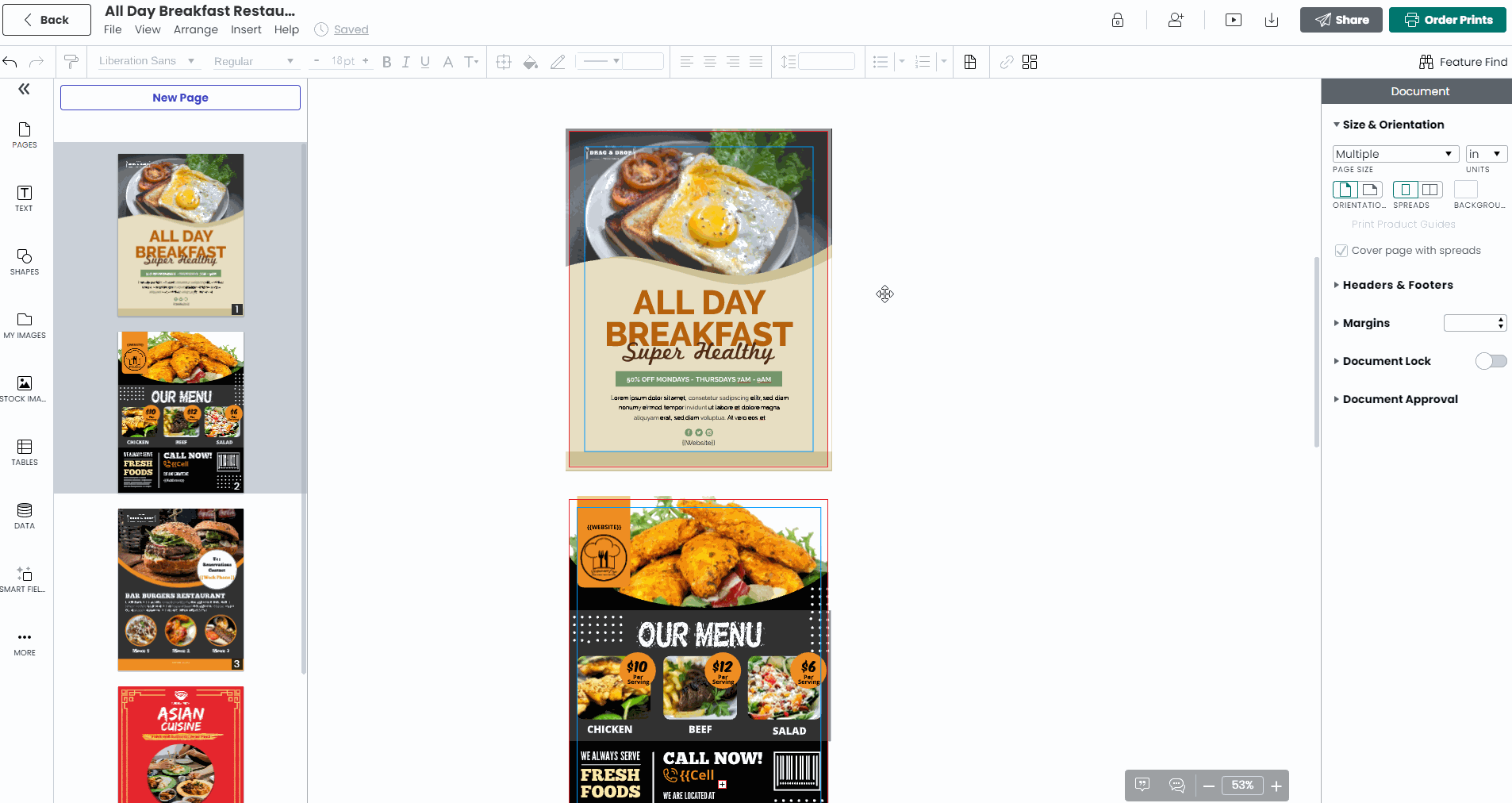 02/08/2021 Post to LinkedIn
Post your Lucidpress documents directly to LinkedIn.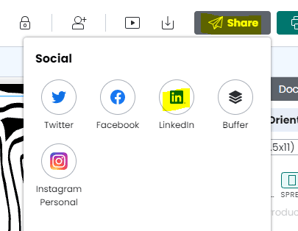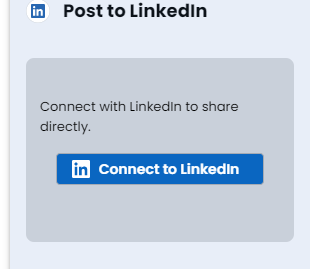 ---
January 2021
01/29/2021 Multi-language support
On a request basis, we can enable your account to have language customization. When enabled, users can pick their preferred language in their account settings.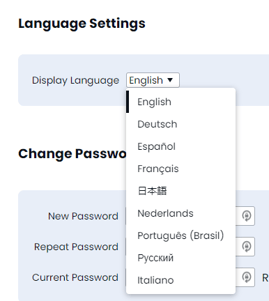 01/17/2021 Arc shapes
Create arc shapes through this new feature. Simply create a circle and then select the boxes and drag the radius.
01/06/2021 Page template admin controls
If you heavily use page templates and don't want users to create their own blank pages, you can now restrict them from creating blank pages.
2020
November 2020
11/07/2020 Xpressdocs integration
We now integrate with
Xpressdocs
as a print partner. If you are interested in connecting to Xpressdocs, please contact your customer success manager or reach out to support@lucidpress.com
11/01/2020 Advanced role-specific sharing settings
You can now configure share settings based on the role of the user in your collaboration settings.
---
October 2020
10/20/2020 PDF upload
You can upload the PDF through the image manager and we will convert each page into images.
Learn more.
10/12/2020 Auto apply property listing data images (RE ONLY)
If you have a XML, MLS, or Google Sheet property listing connection (real estate only), then you can configure your templates to have auto-applying images. This will allow you to apply data to the document and assign primary and other images that will import from your property listing feed.
Learn more.
---
September 2020
9/20/2020 Instagram
Get social by posting images of your Lucidpress document to Instagram. Follow the simple instructions in Lucidpress to have them posted! Get to the below page by clicking share > post on social > click the Instagram icon.
9/13/2020 Show off-screen content by default
Showing off-screen content by default is great is you have training items or notes that you want your team to see on the side of your template design. It's great for providing instructions or training resources. You can add videos, links to other documents and more! Enable in your
team brand settings.
9/02/2020 Locking templates to print products
When converting or editing a template, you can specify what print product the template is intended for. This is to prevent other print options appearing in the order prints flow that are not intended for ordering for that template.
---
August 2020
8/20/2020 New approval process interface
Lucidpress has reduced the editing functions when a document is approved to prevent accidental changes by the user. The user can still make changes and re-request approval, however, safeguards are now in place to ensure the user knows the steps and realizes what happens when they make further changes.
8/02/2020 New and updated slack integration
Integrate your brand templating workspace in Lucidpress with Slack so that you can:• Keep projects moving with Slack notifications for Lucidpress documents
• Simplify sharing by managing Lucidpress document permissions in Slack
• See preview thumbnails of Lucidpress documents when you share document links in Slack.
• Get on the same page quickly by creating new Lucidpress documents with Slack Shortcuts.
• Keep everyone in the loop by sharing Lucidpress documents to Slack from LucidpressInstallation takes seconds and using the integration is effortless.To create a document in Slack:
Option 1: Click ⚡ to create a blank document.
Option 2: Use the command /lucidpress to create a blank document.To share a document in Slack:Option 1: Click the "Share" button in Lucidpress to share your document with a Slack channel or user.
Option 2: Paste your document link in any Slack channel or direct message.Document notifications in Slack:You can choose to receive notifications in Slack when:
• someone leaves a comment on a document
• someone shares a document or folder with you
• someone requests access to a document or folder
To connect, go to account settings > integrations > slack > connect
Get notifications in slack when Lucidpress sends you notifications!
Use /lucidpress for commands
---
July 2020
7/13/2020 Formulas
You asked, and now it's here! Lucidpress rounds out its table data capabilities by offering formulas to users. Much the way spreadsheet tools allow users to analyze, adjust, and quantify their data, Lucidpress allows users to run certain formulas on their documents.
See the possibilities.
---
June 2020
6/21/2020 Name revision history versions
Name specific versions of in your revision history for quick reference should you have the need to revert back to a previous version or create a new document from the version. Click the three dots and select "name this version" next to the version you want to name.
6/15/2020 Group-based User Management
Lucidpress enables admins to divide users into more manageable chunks, or "groups". You can assign group admins specific to groups and assign group license allotments.
Learn more.
6/12/2020 Matterport video integration
Allow your viewers to explore an interactive map of your real estate property directly within published documents.
Learn more
View it in action
6/2/2020 Import images from your Google Sheet through data automation
To set up image paths in your Google Sheet, create a column with this name in your Sheet: externalImageUrls
In addition, make sure to fufill these requirements:
have the full path starting with http://
comma-delimit multiple values
Learn more
---
May 2020
5/12/2020 Facebook video integration
Allow your viewers to view Facebook videos directly within published documents.
Learn more
View it in action
5/8/2020 Restrict link sharing to your organization
Allow users to generate links for account-only document sharing
Configure restriction to always be in place via your collaboration team settings
Indicate org specific sharing via the dropdown menu in the share by link section. This will allow only those in your organization who click on the link to access the document.
---
April 2020
4/15/2020 New editor header
Lucidpress has a new look in the editor!
4/3/2020 Transfer images when you delete a user
Now when you delete a user and transfer files, it will also transfer the images that the user uploaded.
---
March 2020
03/17/2020 InDesign import image naming
Images uploaded with your InDesign import will retain their names when added to the image manager.
03/10/2020 DAM API
Link one or more Digital asset management (DAM) systems directly to your Lucidpress account which will allow you to easily import your DAM image catalog and folder structure. If you are interested in this feature, contact your CSM for pricing.
Learn more.
03/10/2020 Data admin role
Give specific users the ability to manage the DAM API connection.
---
February 2020
02/22/2020 New Lucid branding
Have you noticed some differences in colors and our logo? We have done some rebranding of our own.
See our brand guide.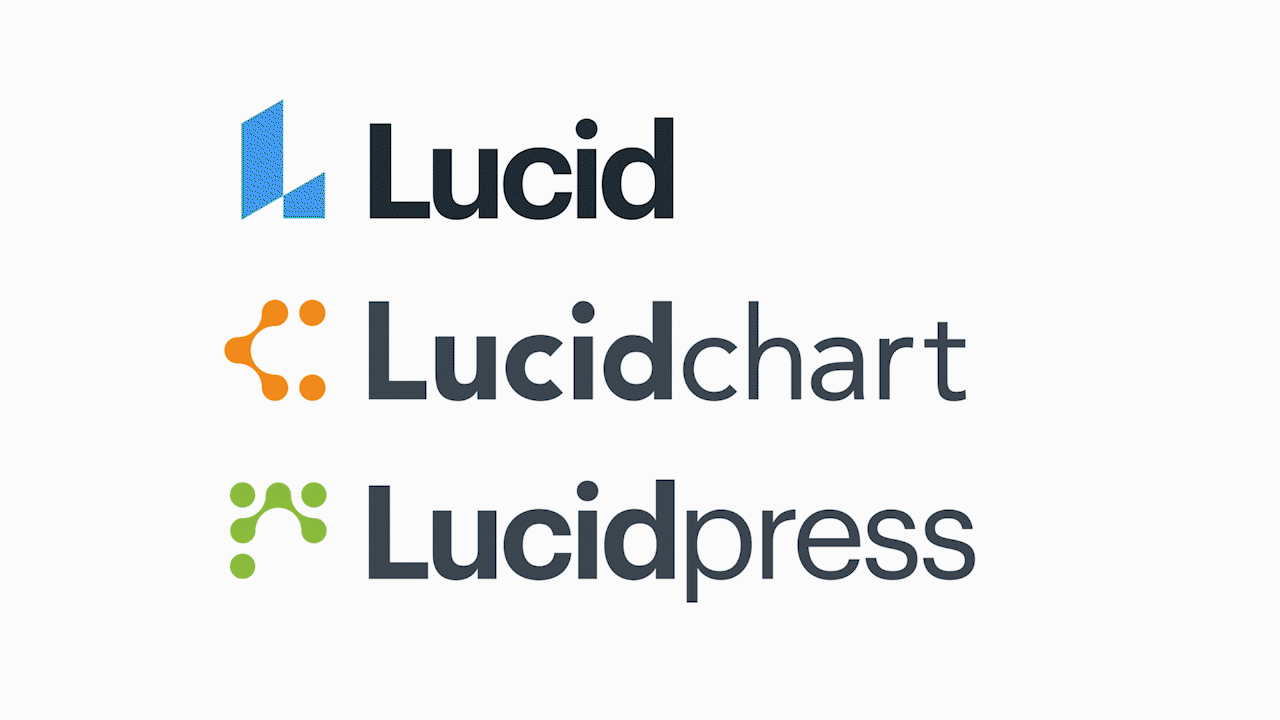 02/17/2020 Missing images from template page
Lucidpress will show a distinct Update Templates page in the Templates tab that displays a list view of all Brand Templates that are missing images. This page appears only if there are Brand Templates that are missing images, and it is visible to the account owner and template admins only. Learn more.
2019
November 2019
11/23/2019 New Mailchimp integration
Directly link your creations to Mailchimp through the new
create campaign
button.
Learn how to enable
which integrations your users have access to.
Click here for more details
on creating a campaign for Mailchimp through Lucidpress.
11/13/2019 Team Setting panel- set default metrics for your users
Through the new team settings panel, you can choose the default metric system among other things such as what views in the platform your users have access to.
---
October 2019
10/14/2019 New tiled view for MLS data automation
With MLS property listings, you can now change the view mode from a sheet to a tile view which will allow you to navigate and select your listings more easily.
---
September 2019
9/25/2019 Enable automatic uploading of images to Lucidpress from your data source
When a data item is selected in your document and you click "images", the images will auto-populate from your data source
9/25/2019 Create filters for your data
Place multiple filters with your data source to find the exact data you need. Filter by numeric or qualitative data.
9/18/2019 Enable data restrictions for your data
Allow only certain users to see data items from your data source. Do this by creating a column called "User Data Restrictions" and put the emails of the users who can access the data separated by a semicolon.
9/18/2019 New Approval role
Use this role to specify approval process admins. Specifically, approval admins can review and approve documents submitted by users if approval process is enabled.
9/11/2019 Create folders in the image manager
Organizing your images is now easier with an easy to access button to create folders
9/11/2019 Access profile and logo images from image manager
Access and edit your profile and logo images in an easy to find place within the image manager
---
August 2019
8/26/2019 Configure and download accessible PDFs
Download a tagged PDF for use with assistive technologies like screen readers.
Find out more here!
8/19/2019 Determine save destination when creating a document from a brand template
Select a folder where you want to save your document.
8/11/2019 Create and edit filters and categories directly through the convert brand template page
Managing your categories and filters is even easier!
---
July 2019
7/29/2019 Disable smart checks for downloads
Manage whether your users can see the smart check flow when they download documents.
7/20/2019 Convert multiple documents into brand templates
When converting multiple documents to brand templates, you can quickly scroll through each brand template and assign filters and sharing, or you can apply all sharing and filters at once to all of your selected documents.
7/14/2019 Lock and prevent new pages from being created
Have more control over your document by turning on a document-wide setting that disables creating and deleting pages.
---
June 2019
6/20/2019 Unsplash integration
Access free stock photos right from the Lucidpress editor with our new Unsplash integration. Unsplash has a huge library of professional stock images.
Learn how to add
the Unsplash integration to your account for you and your users.
6/13/2019 Single-use share links
Increase the security of your document by sharing a one-time access link to your documents.
6/08/2019 Download with smart checks
When you download, you can check to see if you are meeting standards for bleed, safe areas, high-resolution images, and CYMK/RGB color compliance.
Page Bleeds/Safe Area
Lucidpress will put a bleed area on your document and have you check the safe area to ensure content doesn't get cut off. Bleeds are important if you want the content running to the edge of the page and not have a white border.
Image resolution
If you have a low resolution image, Lucidpress will have a step for you to check and give you the option to resize or replace the image before continuing
CMYK/RGB colors
If you have multiple color types on your document, Lucidpress will let you know so you can watch out for consistency.
6/01/2019 Add stars to your favorite documents
Quickly access and find your favorite documents or templates by adding a star on them.
---
May 2019
5/20/2019 New preset document sizes
With more sizes to choose from, you can resize your document to meet a specific size for a print and ship product or a social media post.
5/13/2019 New template manager role
The user will have the ability to add/edit locking and convert documents to brand templates. This privilege is mostly used when Team Admins need help creating and editing templates. Other than that, Template Admins will still be subject to the approval process.
5/08/2019 Add your logo to Lucidpress
If you have a Business subscription, you can now customize Lucidpress even more. Not only can you add your favicon (a 24x24 logo mark) to the top-left corner of Lucidpress, but you can add your full logo to be displayed in the top-right corner as well.
To upload your logo, you must be an admin. Navigate to the "Brand Assets" tab on the left and go to "Settings". For best results, we recommend resizing your logo to 120x40 pixels, then uploading it to the "Logo" section.
---
April 2019
4/03/2019 Default text styles
If you have a Team or Business subscription, you now have more options than ever for your default text styles. You can add as many default text styles as you want. You can also adjust the font color, line spacing, all caps, and more.
To add or edit your default text styles, click the "Brand Assets" tab, then go to "Default Text Styles". Note: only admins can make changes to the styles.
---
March 2019
3/27/2019 Rhombus shape
On the left panel, you can now add a rhombus shape to your document. You can also adjust the angle of the two ends.
3/20/2019 Style and formatting paintbrush
If you have multiple text boxes that have the same formatting, you can now quickly copy a style and paste it to a new text box.
Step 1: Format the style of your text box. Once you have it like you want, click the paintbrush tool on the top menu. You can also double-click on the paintbrush to keep it selected.
Step 2: Click on another text box. Notice how it will transfer the same formatting and style from the first text box.
3/13/2019 Data Automation available for Business subscriptions
With Data Automation, you can connect data from a Google Sheet, an MLS, or an XML feed to Lucidpress. For example, if you have an employee directory built on a Google Sheet, you can merge the data into Lucidpress. Each column header (person's name, email, department, etc.) can then be added as a smart field to your documents. You can then swap between employees and have their information automatically pull from the Google Sheet in seconds!
Learn more here
.


3/6/2019 Option to disable InDesign imports for users
If you have a Business subscription, you can now disable InDesign imports for your general users. The option to import from InDesign will remain available for your admins.

To find this setting, click the "Brand Assets" tab and go to "Settings".


---
Feb 2019
2/28/2019 Copy and Paste
Creating copies of your documents is now easier than ever. Simply select the document(s) and right click to copy. Copied items will be stored in your clipboard until you right click to paste them in a new location.
2/16/2019 Print Catalog
Access our new print catalog that offers a quick & easy way to see what we offer and estimate how much your printed documents would cost. Go here to access it:
https://www.lucidpress.com/pages/print
2/08/2019 Feature Find
Enjoy Lucidpress even more by being able to find exactly where everything is. Simply click the feature find button in the top right corner of Lucidpress and a search box will appear. As you type, results will automatically be generated and a blue arrow will show you where to find the feature you are looking for. Feature find will also provide an option to search in the help center for more in-depth directions.
---
January 2019
1/08/2019 New Guides System
Create mutliple guides for multiple pages.
2018
December 2018
12/19/2018 New Print Flow
With a new print flow, you can now visualize what your print will look like and make small changes before you order.
See more information on printing
---
November 2018
11/19/2018 New Lucidpress Platform (Lucidpress 2.0)
Lucidpress has outgrown the Classic interface and is taking a brilliant leap forward with a new Platform design. Access to the Platform Beta will be enabled on December 10th, and we encourage you to take a look around! If you like what you see, feel free to extend access to the users on your team; they will be able to switch back and forth between Classic and Beta for at least 3 months while we collect feedback and polish the Beta.
Learn more about the changes here
11/14/2018 Add flexibility to text locks (Granular Locking)
All Admins now have the ability to customize what they want locked
---
September 2018
9/15/2018 New Editor: New Interface
Everything is now easier to navigate- including: darker tabs and cleaner looks!
9/08/2018 New Editor: Larger canvas and panning capability
There is now more room to move around! Similar to Photoshop or Indesign, you can pan around the editor so that you can move around your document easier when editing.
9/01/2018 New Editor: New code = faster updates and performance
Everything has been updated to a JavaScript code called, Angular. Angular provides many benefits that helps things move and operate smoothly and that will improve the speed and efficiency while you edit in Lucidpress. Click here for summary of the benefits Angular offers
---
August 2018
8/22/2018 Radial Search with Direct Mail
You can now send direct mail to specific locations and demographics. USADATA automatically filters the information you need to indicate the specifics of your target audience in the the area that you select.
8/15/2018 20 Minute Courses
The Lucidpress Customer Success team designed new courses to assist with the onboarding process where you and your users can discover all of the features Lucidpress has to offer. Better yet, these courses are tailored for your specific user role. If you are an admin looking to create templates, we have you covered. If you are a user within a Business account and want to know how to work with the locking restrictions placed on your documents, you can learn it all here.
8/08/2018 Data Automation - Room Dimensions
Along with the many other field options available with Lucidpress data automation, you can import your MLS data for room dimensions.
8/08/2018 New Notes Feature
"Notes" is a new collaboration feature that you can use with your templates. Say you want to include instructions on your template when your users go to generate a document. Any notes you place on specific objects or text will remain. This can be super helpful to give users specific instructions without having to email them!
---
July 2018
7/15/2018 Disable New Document button
You can now disable the new document button and prevent your users from going off brand and creating their own material. Using this feature will restrict your users to only create documents from your existing templates.
7/15/2018 Disable Non-brand colors
As an admin, you can control whether or not your team can use colors that are off brand. Make sure to set your brand colors in the Admin > Brand Management section before turning on this setting. This ensures that your team has access to all your brand colors (be sure to include black and white as well).
7/15/2018 Disable Non-brand fonts
Make it so that only your brand fonts can be used in your documents
7/15/2018 Send Emails with Multiple Links
No longer will your contacts need to open your published document in Lucidpress to click on your links. They can click on the links right within the email itself!
---
June 2018
6/20/2018 Constant Contact Integration
Does your organization use Constant Contact? Now you can create your email and campaign within Lucidpress. After creating your campaign, your HTML code will seamlessly be uploaded to Constant Contact.
---
May 2018
5/26/2018 Preview Fonts
Does your organization use Constant Contact? Now you can create your email and campaign within Lucidpress. After creating your campaign, your HTML code will seamlessly be uploaded to Constant Contact.
5/11/2018 Print and ship improvements
Print and Ship has been improved and expanded! Three more products are now available to order: 24x26 inch A-Frame Posters with stands, 11x17 inch Posters, and 120# cover weight stock flyers.
5/11/2018 Default bleed and color profiles
Team and Business accounts can now set a default bleed and default color profiles to ensure that all of their users create great, print-ready content without having to even think about. page bleeds or color profiles.
---
April 2018
4/13/2018 Default bleed and color profiles
Team and Business accounts can now set a default bleed and default color profiles to ensure that all of their users create great, print-ready content without having to even think about. page bleeds or color profiles.
4/13/2018 Default images from Lucidpress
It is now possible to download individual images from within Lucidpress onto your computer. To do this, find the image thumbnail in the image manager, right-click or click the three dots in the bottom right-hand corner, and select "Download Image."
4/04/2018 Order Direct Mail Print/Feature
With the new direct mail feature, it is now possible to send mail in bulk to multiple addresses directly from Lucidpress. Simply create a new Lucidpress document, upload a CSV of addresses, and order prints. The prints will be mailed out to all the addresses in the CSV.
---
March 2018
3/22/2018 New Smart Field Options
Two new fields have been added to the Smart Field options: Agent Number and Home Office.
---
Feb 2018
2/28/2018 New Account Button
An "Account" button has been added to the header of the documents page through which you can directly access your account settings.
2/21/2018 New Brand Management Panel
The UI of the brand management panel has been updated. Click on the tabs to the left to navigate its different sections. See the Brand Management article for more information.
2/14/2018 New Publication Manager
A documents publication manager has been added to the documents page where you can see and manage your published documents. To open, click "Document Publications" in the folder manager.
Click the paper clip to copy the URL of your published document, the pen to open the document in the editor, and the trash icon to permanently delete the published document.
2/07/2018 Image Smart Fields
You can now populate smart fields with images. To do so, go to Insert > Smart Fields > Account > Logo/Profile Image.
Was this article helpful?
Yes, Thank You!
Not Really